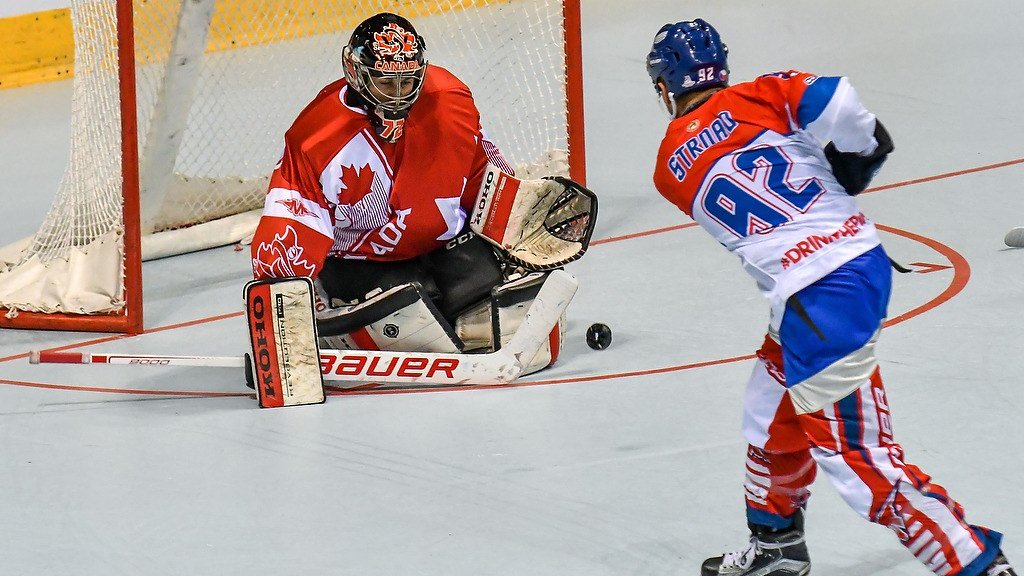 BRATISLAVA – Following a rather disappointing prelims for Team Canada, where they surprisingly finished 3rd in their group, all of that did not matter anymore. Every team wiped the slate clean, as every team would have a fresh start in the Quarter-Finals. For Canada, their opponent would be the Czech Republic.
Looking to have a strong bounce back game, Brett Leggat would get off to a great start in the opening frame, where he would stop all 8 shots, he would be rewarded by his teammates, as Shawn Furlong would open the scoring for the Canadians.
The Canadians would build on that great start, as to open the second period Brendan Baumgartner would get on from the scoreboard making it a 2-0 lead, however the Czech's quickly got 1 of their own to bring it back to a 1 goal game once again.
After a Kade Villio penalty would put the Canadians on the penalty kill, the Czech's would take advantage of the call, and tie the game up at 2. Canada could not seem to stay away from the box, as Schael Higson and Josh Foote would both find themselves taking penalties, one after the other.
Once again, history would repeat itself as Canada could not survive a last second rush as the Czech's would take the lead with 1 second left in the half, following in the footsteps of Slovakia, who did the same exact thing to Canada in their final game of Group play.
With all the momentum, the Czech's would take control and dominate the whole period, as they would score their 4th goal to take a 2 goal lead.  In the fourth and final period, the Czech's would completely break the game, as they would twice in 2 minutes to make it 6-2. The Canadians could not solve Czech netminder Dominik Frodl, who made 14 of 16 shots, and Canada would finally fall to the Czech Republic by a score of 8-2.
Being eliminated from the competition, Canada will now play the loser of the Slovakia/Sweden game, as all losers from the Quarter-Finals will play in a "relegation" game to decide the seedings from 5-8. The Czech's however will play the winner of the match-up between the United States and Germany.
FINAL GAME NOTES
-Canada could not stay out of the box, accumulating 9 minutes worth of penalties, whereas the Czech's only had 3 penalty minutes.
-The Czech Republic dominated in the shot category, tallying 24 shots, while Canada had 16 shots.
-Both Goaltenders, Brett Leggatt and Dominik Frodl received Player of the Game, for their respective Countries.