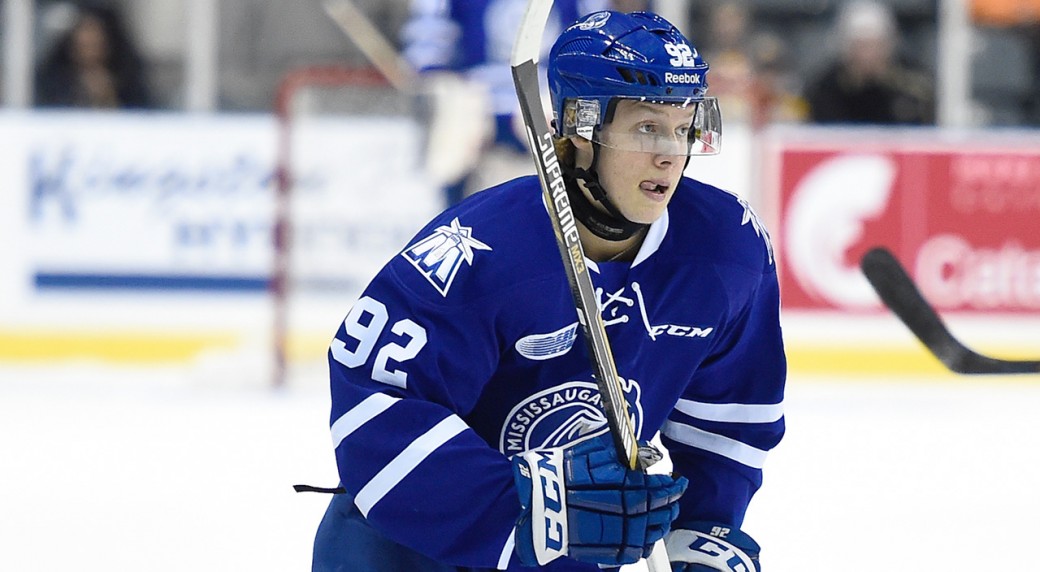 BUFFALO – With the NHL Draft now coming to a close, we now know who is property of what team. Mississauga Steelheads players as well as Mississauga natives, were well represented and were selected in this year's NHL Entry Draft.
Steelheads Players Selected:
Alex Nylander – 1st Round (8th Overall) – Buffalo Sabres
Mikey McLeod – 1st Round (12th Overall) – New Jersey Devils
Nathan Bastian  – 2nd Round (41st Overall) – New Jersey Devils
Sean Day  – 3rd Round (81st Overall) – New York Rangers
Austin Osmanski – 7th Round (189th Overall) – Buffalo Sabres
Nylander to Buffalo was real cool, now due to the future rivalry between him and his brother William as he plays for the Maple Leafs. It's a real possibility that Alex won't be returning to Mississauga next season.
What also was pretty awesome was that the best friends of Mikey McLeod and Nathan Bastian both got drafted to New Jersey. Now they will be BFF'S.
Sean Day's selection was a good fit for him in New York, as they'll give him the time to develop.
Also, another great story was Buffalo native Austin Osmanski getting drafted to his hometown team.
The real coincidence about everyone drafted from the Steelheads, ALL got drafted to teams from the State of New York. Real fascinating.
Mississauga Natives Selected:
Mikey McLeod (Once Again) – 1st Round (12th Overall) – New Jersey Devils
Jack LaFontaine – 3rd Round (75th Overall) – Carolina Hurricanes
Matt Cairns – 3rd Round (84th Overall) – Edmonton Oilers
Cole Candella – 5th Round (140th Overall) – Vancouver Canucks
Mark Shoemaker – 6th Round (180th Overall) – San Jose Sharks
As well as being the Captain of the Steelheads, Mikey McLeod was also born and raised in Mississauga on top of that.
Goaltender Jack LaFontaine was an absolute stud in Jr A. these past two seasons with the Georgetown Raiders and the Janesville Jets this past season. He is committed to The University of Michigan.
Cornell commit Matthew Cairns had 33 points in 46 games in the OJHL for the Georgetown Raiders. Great stats for the 6'2 defensemen.
Cole Candella had an injury-plagued season in his first season with the inaugural Hamilton Bulldogs. Candella offers great size and smooth skating for the Canucks.
Mark Shoemaker had a decent year with the North Bay Battalion. The physical defensemen only had 11 points, but his strong penalty killing and physical play made up for that.