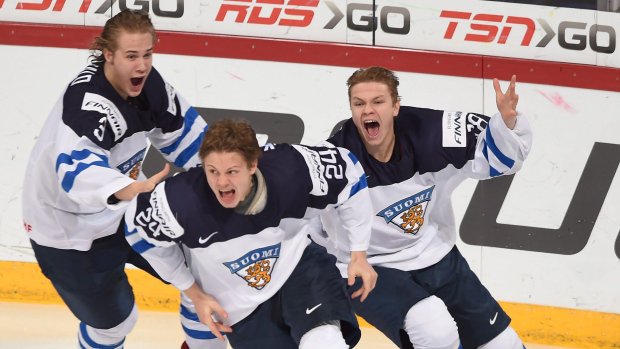 For the second time in three years, Finland has won the gold medal, after an amazing performance throughout the whole tournament on their home soil. Today, I will talk about what made them so great.
From the gold medal game, to the wild quarter final against Canada, even the games in the preliminary, every game Finland played in was entertaining to watch. In almost every game, Finland was trailing and they always, ALWAYS, found a way back and win it. From top to bottom, they were very skilled, but their top line with the two draft eligible players stole the show.
With top notch prospects such as Mikko Rantanen, and Kasperi Kapanen, you would expect those guys to be carrying the load, but no that wasn't the case. Jesse Puljujarvi, Patrik Laine, and Sebastian Aho, were absolute dynamite this tournament. They arguably carried this Finnish team to the top, no matter how good everyone else was. It's usually very difficult for draft eligible players to dominate in a tournament with this type of magnitude, but man, they were playing insanely.
Due to the hype of Laine and Puljujarvi, you could say that Sebastian Aho was the forgotten man on this line, but he was just as good as the other two. The 2015 second round pick from Carolina, was absolutely brilliant putting up 5 goals and 9 assists for 14 points, which was best for 2nd in the tournament behind his line mate Jesse. With the way he looked out there, I believe he will have a bright future with the Hurricanes.
There was a lot of doubts and questions about draft eligible player Patrik Laine. Not knowing what to expect, Laine could've been a guy who could slide down in the draft. But boy oh boy, did he live up to his hype. He was a dynamo every time he had the puck, and man could he rip the twine. He showed his rocket of a shot in almost every game, but most notably used it crush the hearts of Canadians by ripping 2 ginos past MacKenzie Blackwood. Laine was tied for 1st in goals, beside Auston Matthews, with 7 of them, adding on 6 assists, which gave him 3rd place in the scoring race, behind only Aho and fellow 2016 draftee Jesse Puljujarvi.
Jesse Puljujarvi was a force as a 16 year old in last year's tournament in Montreal and Toronto. He was throwing the body, and generating tons of scoring chances. Only one thing, he couldn't put the puck in the net. If you thought that the same thing was going to happen again, well you thought wrong. Jesse was a stud out there, leading the tournaments in points with 17 points in 7 games, racking up 5 goals and 12 assists, and in every game. He was awarded the top forward of the tournament after the gold medal game.